METHOD 1 : SIMPLE HOME
Go to Appearance > Customize > Homepage > Home Layout.
Under Home Layout, select the layout style you wish to use. On changing, you will be able to see the preview on the right side.
You also have the option to enabe or disable the sidebar. Under Home Sidebar, select the setting you need.
Click Save & Publish.
METHOD 2 : Widgetized Homepage
Go to Appearance > Customize > Homepage > Home Layout.
Under Home Layout, tick Widgetized Homepage.
Click Save & Publish.
Go to Appearance > Widgets.
Click on one of the widgets prefixed Kutir Home and add it to sidebar named Homepage Widgets.
Configure the widget settings such as post listing style, Heading, From Category (to show posts from a particular category) and so on. Most of the settings are explained.
(Optional) You can add a sidebar next to a block. In the widgets, simply enable it as follows:
Repeat to add more widgets.
Go to Appearance > Customize > Homepage > Home Slider.
Under Slider on Home, select the slider you wish to use.
By default, the slider will show posts that have the featured tag. Under Slider Post Tag, you can change this tag to anything you want. Making it empty will show latest posts instead.
Click Save & Publish.
Go to Appearance > Customize > Homepage > Home Carousel.
Tick "Enable Posts Carousel On Home".
You can configure the title, number of posts, and the method to display posts (by tag or most likes).
Click Save & Publish.
Go to Appearance > Widgets.
Drag and drop the widget ContentBerg – Call to Action Boxes to Home Call to Action Boxes (or Main Sidebar to add to sidebar instead).
In a separate window, upload your 3 call to action images to Media > Library. Click on each and copy the URL.
Enter a title, paste the image link, and enter the link for each box.
Save.
Homepage Setup (WPBakery Page Builder)
Important This section is for using the pagebuilder method to create your home. If you haven't already read about the other methods, available, please read about Homepage Setup Methods.
To get started, make sure you have already installed and activated WPBakery Page Builder from Appearance > Install Plugins. Then proceed below.
Creating Your Homepage
The easiest way to get started is to use the pre-made templates in the Page Builder and then modify their settings.
Go to Pages > Add New and click Backend Editor button.
Click Add Template button.
On the popup, click on "Default Home" or any other home of your choice.
Read below to learn how to edit it.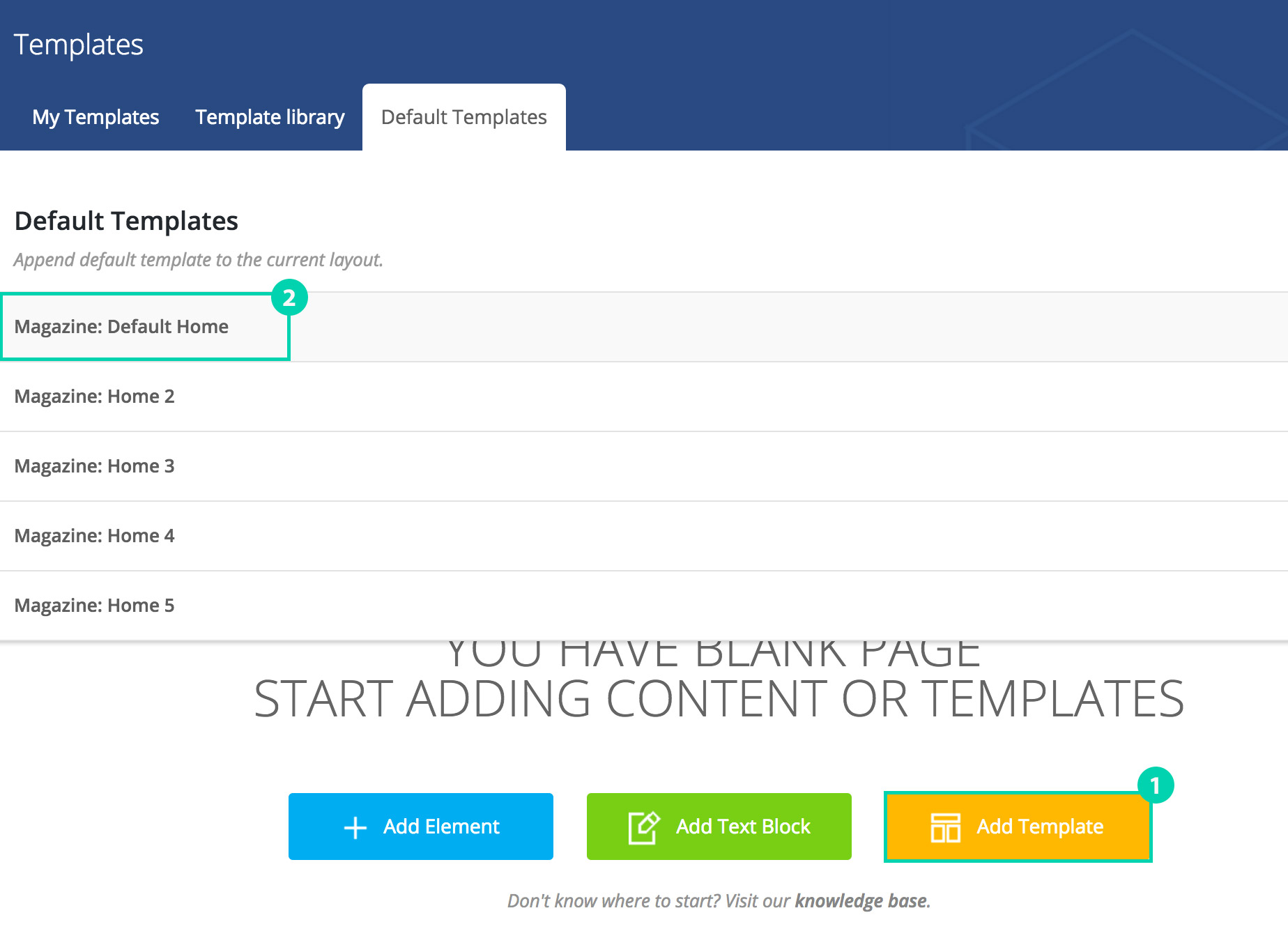 1. Edit Your Page
Once the layout is loaded, you should see this: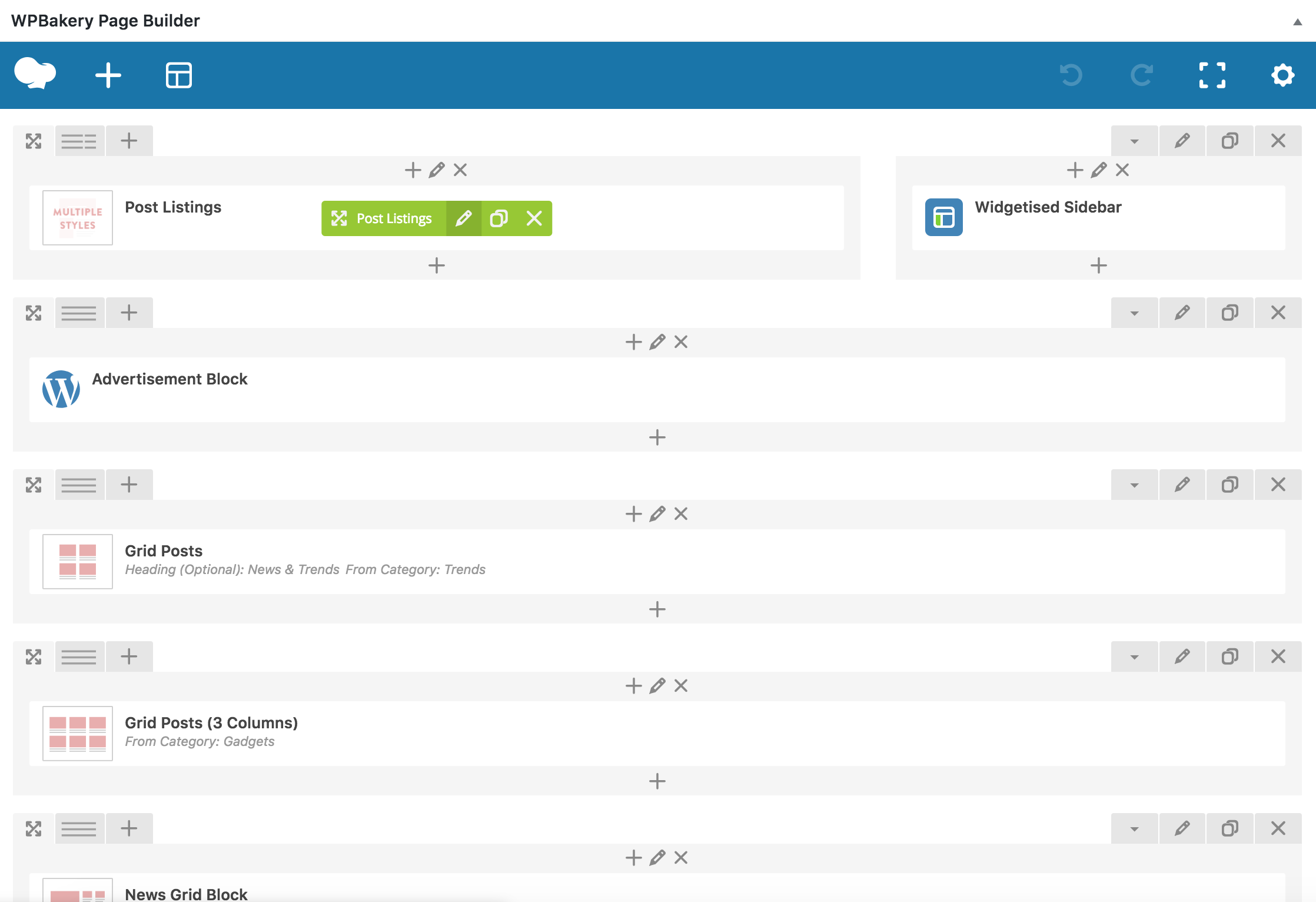 Hover over blocks and click the pencil icon to edit block settings, as shown in (a). Set options like Main Category (under Refine Post tab) and others as necessary.
You can add more rows and elements by clicking the + button (b).
Learn more about the Page Builder (WPBakery Page Builder) with Videos.
Finally, configure the Page Options to set Layout Type to "Full Width". (see [1] in image below)
2. Enable A Featured Grid / Slider (Optional)
If it's your Homepage, you can either use the follow method or the Customizer method as explained here.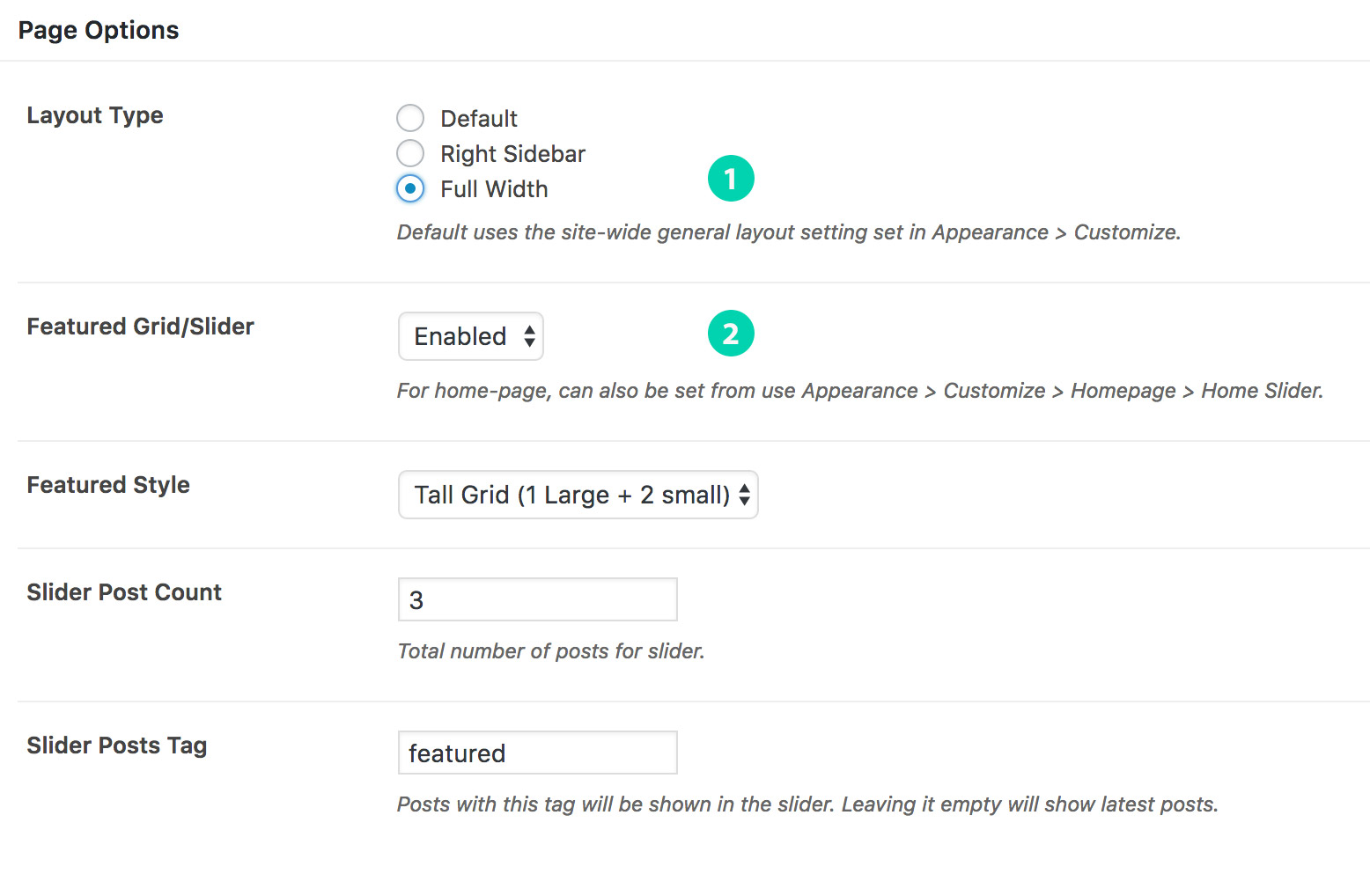 While editing your homepage, in the Page Options (as shown in image above), set Featured Grid/Slider to Enabled.
Choose one of the slider next to Featured Style.
(Optional) You may limit the posts to a specific tag.
Save.
Setting Up Homepage
Once you have created a page that you would like to use as your homepage, follow these steps:
Go to Settings > Reading.
Choose "A static page" option for Front page displays.
Next to Front Page, select the page you created to be used as the homepage.
Save Changes.
Pagebuilder Blocks For Homepage
There are several Home Blocks that you can test and use for your homepage show under "Home Blocks" after click "+" button on pagebuilder.

WPBakery Page Builder Videos
WPBakery Page Builder has a collection of basic and advanced videos in their video academy. Few basic guides:
Setup Categories
Setting up categories for this theme is no different than ordinary category setup in WordPress. If you are not sure how to add categories in WordPress, please refer here.
Category Listing Styles
ContentBerg has several layout styles for categories. By default, the Blog style is select. To change:
Go to Appearance > Customize > General Settings > Categories & Archives.
Under Category Listing Style, select the listing style you wish to use.
There's a sidebar setting for archives that affects all type of listings (categories, tags, author archives, date archives). You can adjust the Listing Sidebar setting as desired.
Click Save.
Custom Posts Per Page
By default, in WordPress, all the categories and archives (including homepage) use the Blog pages show at most setting from Settings > Reading.
If you wish to set a custom posts per page setting for categories or other archives, you can use the Custom Posts Per Pageplugin.
Adding Posts
Adding a new post work the same way as a default WordPress installation. For an extensive guide on adding posts, check this guide.
Featured Image Size
While the theme can function without featured images, it's highly recommended that you add a featured image to each post. This not only makes your site/blog more lively but also improves user experience.
To set the featured image, use the WordPress normal method.

Important If you have existing content and featured images, you will have to install Regenerate Thumbnails plugin and run it from Tools > Regen. Thumbnails. Skipping this will make your existing images look out of proportions or stretched.
Recommended Image Size
Image size (dimensions) will depend on what type of layout you're using throughout your WordPress installation or per individual post basis. This image will not only be used on the post, but also on the category listing pages.
Compatible with all layouts and default slider: 1170×515 minimum (width x height).
If you don't use Full Width layout: 770×515 minimum.
Note ContentBerg uses WordPress's standard cropping and resizing method.
About Retina We recommended using images of double height and width to have your content images appear sharp on high-res devices like iPad. Read more below.
About Retina Images
Retina images are used for hi-definition / hight DPI screens such as iPad, Macbook Retina and so on. For these devices, you need to upload images twice the recommended dimensions above.
ContentBerg, when activated, informs you to install a few plugins and one of them is WP Retina 2x. Assuming you had existing images that are large enough, you can convert them to retina images from Media > Retina, after activating the plugin.
Choose Your Post Format
Post formats allow you to display posts differently. For example, a video format post will show a featured video instead of a featured image. Similarly, an audio post can show Soundcloud embed instead of featured image. The gallery format will show a gallery slider.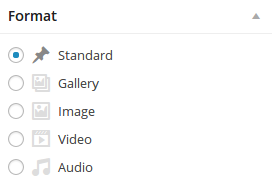 Video/Audio Format
Setup your post normally and set a featured image. Copy the URL of a YouTube, Vimeo, Soundcloud etc. video/audio and paste it next to Featured Video/Audio Link.

Note Videos will be resized to fit the container so you can choose a larger embed format if the video site allows you to specify size/dimensions.
Gallery Format
ContentBerg will automatically convert the first gallery inserted into a post to a gallery slider – granted "gallery" post format is checked. We recommend setting a featured image even for gallery posts to make it functional in all layouts.
When adding/editing a post, click Add Media button.
Click Create Gallery. Upload images or select from Media Library. Click Create a new gallery.
Click "Insert gallery".
(optional) If you wish to show thumbnails or create a static/non-slider gallery, set image captions and click Insert Gallery. Change post format to Standard.
Note To create a special in-post gallery, see below
Post Options
You will see the following post options when adding a post.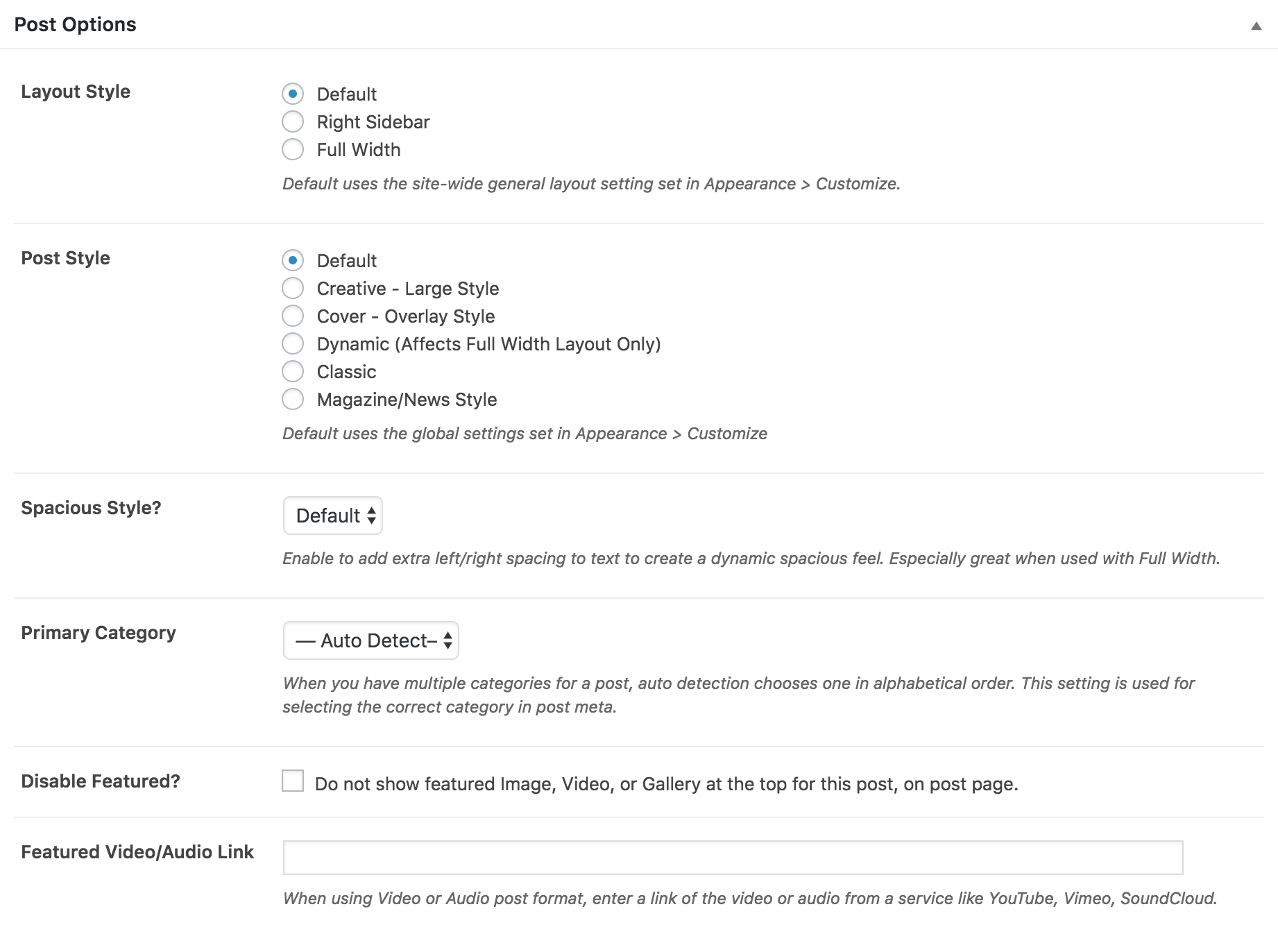 Layout Style: You have the option of a layout with a sidebar on right or a full-width layout for this post.
Post Style: There are several post styles available to choose from. Leave it as default when using the layout set in Customizer (Creative by default).
Spacious Style: For a modern dynamic effect – padding on left and right of text and images slightly wider. Default uses the setting in Customizer.
Primary Category: Archives and listing layouts show a single category in the post meta. If a post is assigned to multiple categories, left to Auto-detect, a category is selected based on alphabetical sorting.For example, a post assigned both to Apples and Oranges will show Apples in post meta. If you wanted to show Orangesinstead, selecting Oranges in this option will ensure that.
Featured Video/Audio Link: For Video or Audio post format – explained above in Post Formats.
Post Galleries
Jetpack Tiled Galleries
These are squared, circled, and tiled mosaic galleries (as shown in demo), that are made available once you install the Jetpack plugin.
Learn how to add these in FAQ (#2).
Adding Pages
Creating pages is a simple process just like a default WordPress install. If you're unsure, learn more about pages.
Add a Contact Page
Setting up a contact page requires that you install the "Contact Form 7" (go to Appearance > Install Plugins if you have not already installed it).
First create a contact form:
Go to Contact and edit the default contact form (Contact Form 1).
Edit the "Mail" settings to suit your needs and Save
For more information, refer to Contact Form 7's FAQ and Docs.
Go to Contact again and copy the code liste under Shortcode column.
Go to Pages > Add New. Add your page content and paste the shortcode where you would like your contact form to appear.
Adding Google Maps to Contact Page
To add Google Maps:
Go to Google Maps.
Find the desired location and in the left pane, click Link icon (it's to the right side of "My places" button, next to print icon).
Click customize and preview embedded map. Set settings as desired and the copy the HTML code.
Edit your page and go to Text editor (next to Visual). Paste your code and Publish.
Sidebars and Widgets
ContentBerg comes equipped with several custom widgets but also styles the default WordPress widgets.
Additional Custom Widgets
ContentBerg – AboutA widget to display an image/logo and a description of your site/blog.ContentBerg – Posts ListShow either latest posts or popular posts from your blog.ContentBerg – Social IconsAdd social icons in the sidebar without counters or requiring API data.ContentBerg – Call to Action BoxesProminent boxes that draw attention. Use to emphasize a category or a page.ContentBerg – AdvertisementAdd a banner to your sidebar.ContentBerg – SubscriptionA widget to add mailchimp subscription form.
How to use widgets
Go to Appearance > Widgets.
Main Sidebar is the main right sidebar. Expand the box at right, where you would like to place your widget, by clicking on the arrow icon next to it.
Drag & drop the widget you wish to use, in the expanded area below the box (Main Sidebar for example).
Fill in the information necessary and click Save.
Subscribe Widget – Mailchimp
The included subscribe form relies on Mailchimp – the industry standard for managing mailing lists. You can either manually send newsletters or use their RSS to Email guide to automatically send newsletters campaigns. But before that, you need to create an email list by integrating it to your blog subscribe form.
Register and login at Mailchimp and go to Lists > Create List.
Fill in the form and click Save.
On then next page, click Signup Forms. Click on Embedded Forms.
Select and copy the code under Copy/paste onto your site.
Add the subscribe widget to your sidebar and under MailChimp Form Submit URL:, paste the code you copied in previous step.
You may wish to modify the Subscribe Message for your audience.
Save.
Note If you're located in EU, or wish to offer your services in EU, you have additional EU laws to follow. Check our GDPR guide.
The Right Sidebar
ContentBerg's right sidebar uses the Main Sidebar widget area. Any widgets you drag/drop in this widget area will be displayed in the right sidebar.
Social Followers Widget
The social followers widget is an advanced widget that has supports showing followers counters. It's enabled when Sphere Core plugin is active. The widget name is ContentBerg – Social Follow & Counters.
NOTE If you want a simple Social Media Buttons widget, please use ContentBerg – Social Icons widget instead.
To configure the social follow buttons, head to Customize > Social Counters.
Social Follower Counters
If you wish to show counters with each social media service with this widget, you will need to set up API keys. First, enable social media counters from Customize > Social Counters > General.
Facebook Social Counters
Follow the official instructions on setting up a Facebook App.
In Step 7 (App ID), you will get an App ID and App Secret, enter these details at Appearance > Customize > Social Counters > Facebook.
Twitter Social Counters
Go to https://apps.twitter.com/app/new. Note that you will have to be logged into your relevant twitter account.
Fill in the details name, description and website. And Create your Twitter application.
Once the app is created, go to Keys and Access Tokens tab and copy the Consumer Key and Consumer Secret.
Enter these details at Appearance > Customize > Social Counters > Twitter.
Google+ Social Counters
Go to https://console.developers.google.com/project and click Create Project (or browse an existing project).
Once the project is created, under Social APIs, click Google+ API. Enable it from the next screen.
After Enabling it, from left navigation, click Credentials.
Click Create Credentials button and from the drop-down, choose API Key.
Enter this API Key at Appearance > Customize > Social Counters > Google+.
YouTube Social Counters
Go to https://console.developers.google.com/project and click Create Project (or browse an existing project).
Once the project is created, under YouTube APIs, click YouTube Data API. Enable it from the next screen.
After Enabling it, from left navigation, click Credentials.
Click Create Credentials button and from the drop-down, choose API Key.
Enter this API Key at Appearance > Customize > Social Counters > YouTube.
Using on categories, tags archives, search, and other archives
Additionally, custom sidebars can be used on archives too.
Go to Appearance > Widgets. Click arrow to expand the sidebar you wish to use on a category.
Click Sidebar Location link. You should see this:
Click to expand For Archives.
For categories, click on Category Archive tab.
For other archives like custom taxonomies, search, tag archives etc. click on Archive Types.
Check "As Main Sidebar for selected"… and click on the input box to select your categories or archives types.
Save Changes.